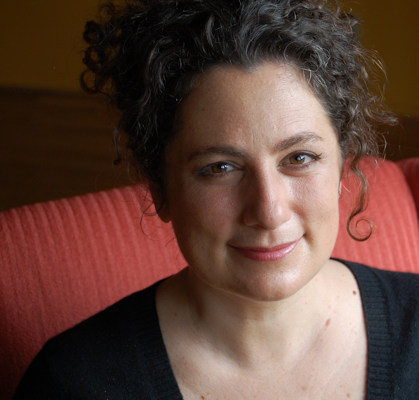 Alyssa Harad grew up in Boise, Idaho. Her adolescence was spent reading, writing bad poetry and staying up late to study with her friends. To avoid babysitting, she started a small business catering local parties, the first of many food-related jobs. (She and her partner wore black pants, uncomfortable white shirts with ruffles, and red aprons that said "At Your Service.") Alyssa completed her undergraduate degree in English at Harvard though she could often be found hiding out in the kitchen where she worked part-time as a baker for the weekly High Teas. After graduating, she returned to Boise to work as a cook at a health food co-op, a small-time journalist, and a creative arts facilitator at a psychiatric hospital.
When the hospital drastically cut back its creative arts program she left to pursue her doctorate in English at the University of Texas, but never stopped thinking about the people she'd met and the stories she'd heard there. Throughout graduate school, she collaborated with therapists and others to work with girls and women, particularly survivors of sexual abuse and trauma. After completing her degree with a dissertation on how literature can bear witness to the long term effects of trauma, she jumped off (or was pushed, depending how you look at it) the academic track and found employment as the development officer for a small non-profit, an unpaid program developer and freelance hack writing everything from test questions and book reviews to the introduction and notes for the Simon & Schuster Classics series—the latter gig led many search engines to suggest she is the co-author of My Antonia, Walden and other great works.
Coming to My Senses, the book and the blog, grew out of the wonderful, surprising year Alyssa spent becoming totally obsessed with perfume while planning her wedding (after eleven years of happily unwedded bliss). Her writing has appeared in O: The Oprah Magazine, Marie Claire, The Chronicle Review and the perfume blogs Now Smell This and Perfume Smellin' things. She lives in Austin, Texas with her husband, three cats, one dog and a closet full of perfume.