Aftermath: Après L'ondée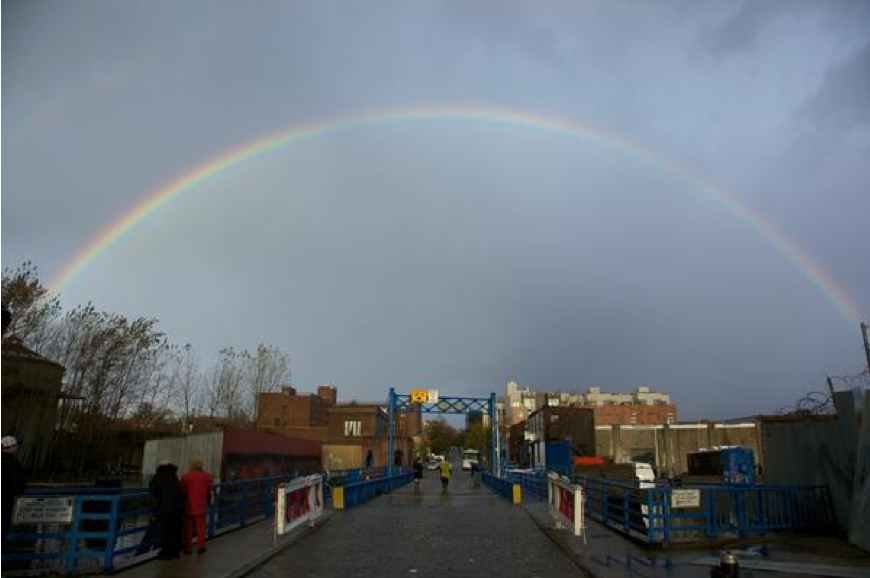 Like everyone else, I've been following the news reports today.  I'm still waiting to hear from a few friends affected by the storm. I'm not too worried–they were in relatively safe areas and there's a lot to do right now besides pick up a phone, especially when the power is off. But when I try to think about other things my mind goes back to all the images I've seen today: Water gushing out around the edges of closed elevator doors in a New York subway station. A rainbow over the brimful Gowanus canal. The Potomac still rising. Ambulances lined up around the block at NYU Hospital waiting to transfer patients carried down nine flights of stairs by the staff.  A building on 8th Avenue in New York with its front facade completely gone, the rooms inside on display as though in a dollhouse—that photo taken by a friend who lived not too far away.
And all day long the gentle, loving messages of worry and relief going back and forth on Twitter and Facebook: Are you there? Are you OK? What does it look like over there? So glad to see your message. Be well. Be safe. Take care, take care, take care.
There's still so much to do.  The story of the storm will continue long after the clouds have cleared and the power comes back on. So I'm still working with whatever sympathetic magic is to hand. This time, it's Guerlain's Après L'ondée.
Not because it's name means "after the rainshower," but because it is somber and joyous at the same time, and because I learned how to love it when I was gifted a sample of the vintage parfum from a New York friend. She's a woman I first knew as a fellow perfume-blog reader.  I admired her from afar for the glimpses I got of a life of nights at the opera and Christmas walks down 5th Avenue long before she became, to my surprise and great good fortune, the book designer who made the interiors of Coming to My Senses look so lovely.
It was quite a gift, that little vial. The vintage parfum of Après L'ondée is very rare . I never thought I'd smell it, let alone have precious sample of my own. Après L'ondée is widely considered a masterpiece, a perfume that has been setting the standard and inspiring imitators since 1906 and is still fresh and relevant after more than a century. But it wasn't until I smelled the parfum that I understood what the fuss was all about.
The modern eau de toilette is a watercolor in pale shades of blue and lavender, washes of heliotrope, anise, and carnation over a heart of violets and a base of vanilla and sandalwood. A drifting cloud of a scent. The vintage parfum stops all thought. The notes are the same, but they're rendered in round, rich tones layered over one another in perfect balance, unfolding slowly, majestically, until the vanilla-sandalwood base arrives to soften the whole into a scent that is both comforting and gently melancholy.
Once I learned to see the beauty of Après L'ondée in the extrait, I could feel its presence in the modern eau de toilette, too. It is not the same, but it is very, very pretty–a tender scent that demands very little from the wearer and gives much in return.  I feel lucky to have a bottle. And in so many, many other ways tonight…
Take care, take care, take care.
Image: Rainbow over Gowanus Canal, by Conor McDonough