Petrichor Luxe: That JAR Perfume in Chapter Five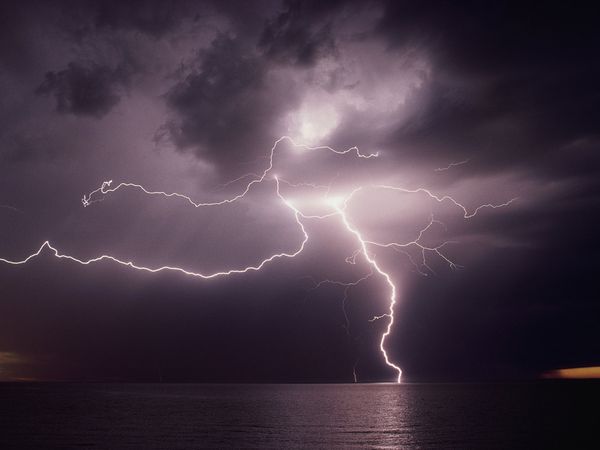 For once I have an iron-clad reason for leaving a perfume unnamed: the JAR perfume I fell for in Chapter Five doesn't have one.  Like Prince in his Artist-Formerly-Known-As phase, it's official name is a symbol–the bolt of lightning etched on its understated glass flacon, an echo of the one that streaks across the moody mural painted on the ceiling of JAR's New York boutique.
"Most people call it Bolt of Lightning," the SA admitted on my recent visit to New York when I tested it again in the middle of Sniffapalooza madness. I am very happy to report it is the same perfume I first smelled in February 2007, and  I still find it astonishing every time I put on a few drops from my precious limited supply (acquired in the swap of a lifetime).
Bolt of Lightning is essentially a petrichor perfume–the scent of rain on dry earth–amplified and orchestrated into a grand opera of a storm.  The opening is roar of green that lifts you out of your chair, a true cymbals-crash thunderbolt of an opening that extends itself into the raw wet smell of a storm, a steady chord that grows richer and more complex until it opens out into another scent altogether, one I won't describe here since it would be something of a spoiler for people who haven't read the book yet.
Bolt of Lightning is one of those rare perfumes that lives up to its hype and prestige–a piece of art as well as a commodity. While it's equally stunning price–$765 for 30 ml of pure perfume–ensures I'll probably never own a full bottle, it should be noted that it's cost per ml is not that far out of line with the extrait versions of many prestige perfumes, most of which are sold in 7.5 ml bottles. Certainly, compared to the quality of some of perfumes in this list it looks like something of a bargain. And of course, if you're the kind of person contemplating the purchase of your third JAR necklace or brooch, it's probably something you can toss in your shopping bag as a pleasant afterthought…
Photograph by William R. Curstinger via National Geographic. The colors are so close to those used in the Bergdorf's JAR mural that it could have been an inspiration for the artist.