Ten Names, Ten Perfumes: Answers to the Giveaway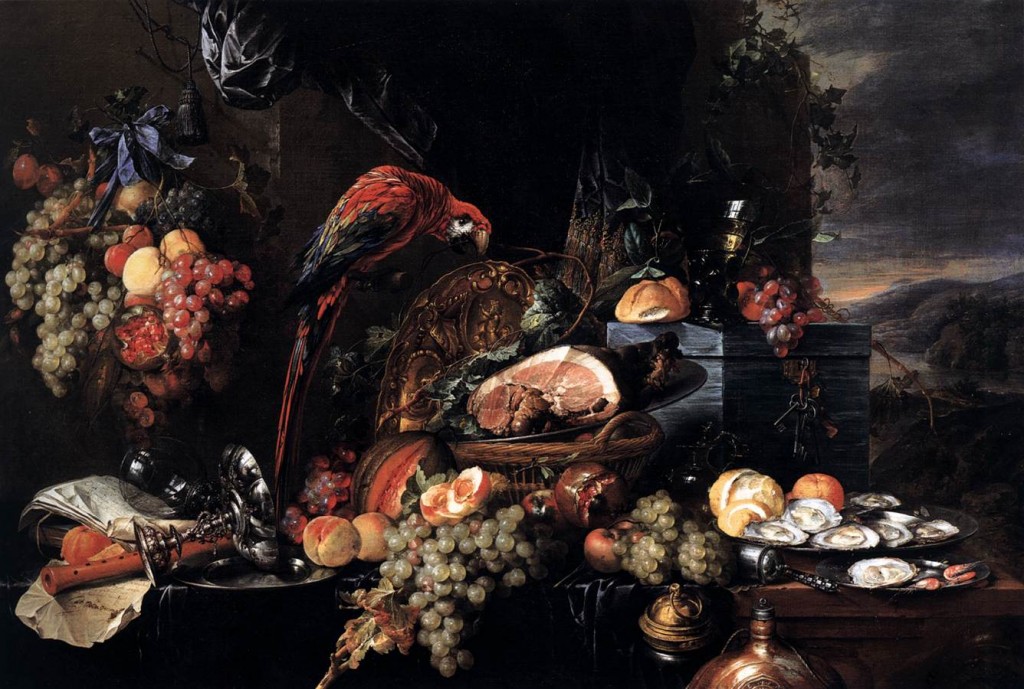 These are the ten perfumes the wonderful Ayala Moriel offered up for her readers to guess at over on her SmellyBlog. As far as I know, all are still in production, with the possible exception of Bvlgari Black, which has been rumored to be discontinued several times over the past few years. They also seem to be more or less intact, though surely some of them have been nipped and tucked a bit, especially the ones with hefty doses of citrus oils. The packaging for Anné Pliska, never the best part of that perfume, has been violently pinkified.  Please do comment if you have more information about availability or formulation.
1) "The high, singing scent of lemons fading to the spring green of honeysuckle growing along a creek, and a bit of the muddy banks, too." (p.12)
I had never noticed the honeysuckle vines growing rampant along the little creek near my house until I started wearing Annick Goutal's Chèvrefeuille. Then one morning in spring I was out walking the dog and noticed a familiar scent… This is great place to start for the perfume shy who don't think perfume can smell "natural." I also think it would be lovely on a young girl who wanted something besides the usual celeb fare.
2) "The scent of night-blooming jasmine, heady and heavy with fruit and a touch of ashtray – the lovers were smoking before they disappeared into the brush." (p.12)
A somewhat fanciful reference to (rather than description of) Etats Libre's Jasmin et Cigarette–now disappointingly renamed Jasmin et Tabac. (Apparently cigarettes are now more taboo than male genitalia, a cartoon version of which decorate the bottle of another of their perfumes, Secretions Magnifiques.)  JeT performs the neat trick of going from smoked to unsmoked tobacco. It begins with a true hit of ashtray that rapidly transforms into a honeyed tobacco rich with jasmine. I first discovered during a long hot week in New York so it will always smell of the city in summer to me, a little overripe, a little dangerous, a piece of a louche life I never lived.

3) "The smell of the air just after a summer thunderstorm – an astonishing scent of trampled grass, broken branches, bruised flowers, and electricity." (p.119)
See my post on JAR Bolt of Lightning.
4) "It was, precisely, the scent of lilacs in passing, a rain-freshened breeze carrying the scent from somewhere down the block, a scent of mercurial spring, made all the more lovely by the cold gray day". (p. 125).
Anyone who reads blog reviews regularly will have guessed that this is Frederic Malle's En Passant. I can't say much more about than I've already written above except to say you should try it (and that some poor souls smell cucumber where I smell rain).
5) "And finally, a grapefruit softened with vanilla and patchouli that left clean and bright behind for something dirtier and more interesting." (p. 142)
Those of you who have tried and rejected Guerlain Acqua Allegoria Pamplelune will no doubt argue that it is interesting right from the start if one finds sulfur, sweat and urine interesting. Which is to say: this one goes very, very wrong on some people. I, however, am not one of those people and I find the dirty grapefruit notes fascinating and not a little sexy. Long may she live.
6)  "…a fantasy in black leather, asphalt, rubber, and smoky vanilla."  (p. 142)
This is Bvlgari Black, of course, described more or less the way I've seen it described in nearly every review I've read, because that is what it is: a dark, smoky vanilla and black rubber perfume with the aura, if not the exact scent, of a black leather jacket going down a street somewhere nearby. They even put it in a black rubber bottle, what can I say?
7) "The scent rose up all around me in a soft cloud. The sweetness expanded, lush and narcotic. I stood quietly in the middle of it, breathing. Then it roughened with a dusky bitterness that brought me back to myself just enough to open my eyes and begin walking." (p. 164); "Maybe I would leave the flowers in my hair. And I would still have my perfume – that beautiful dream of white flowers, that touch of honey."  (p. 204).
Annick Goutal's Songes, of course, with just a touch of Botrytits, that honey perfume.
8) "This one takes you on a walk by the sea through a cypress forest, and then suddenly you stumble on a grove of lemon trees and just one fig tree, covered in rip figs. It's the perfect thing in hot, humid weather. Just one spritz and you can feel that salty breeze coming in off the ocean."(p.195)
This is how I felt about Acqua di Parma Blu Mediterraneo, Fico di Amalfi at the time. I managed to sell several bottles of it to friends at the height of my fandom, so I don't think I was completely hallucinatory, though I'm slightly less enamored with it now. I still smell the lemon and the figs and it is still very nice in hot weather, I've just left my fig phase somewhere off stage left. (No doubt by this summer I'll be wanting to edit this paragraph to say you should all run out and buy a bottle.)
9) "This one smells exactly like a creamsicle when you first put it on, but if you wait two minutes it turns into a rich, sophisticated amber. It's like you  put on a bright orange corduroy jumper and then it suddenly morphs into a little black velvet dress with pearls". (p. 195)
This is Anné Pliska, and I really can't describe it any better than I already have, except to note that the amber is dry, rather than rich–this is a restrained amber, very grown up, even a little haughty, if amber can ever be such a thing. The transformation from the juicy creamsicle top to that little black dress perfume still cracks me up and I've learned to thoroughly enjoy both Acts I and II.
10)  "I revisited a smoky incense-and-lilies that I have always wanted to like more than I really do". (p. 222).
L'Artisan's Passage d'Enfer is universally praised and beloved by everyone but me, it seems.  Though I can sense what everyone loves about it, I can't get over the dominating incense note in the base. More for all of you.
Thank you to Ayala for being the inspiration for the Big Reveal and to everyone out there playing along!
Image: Banquet Piece, Jan Davidsz Heem