Naming Names: Chapter One Perfume Round-up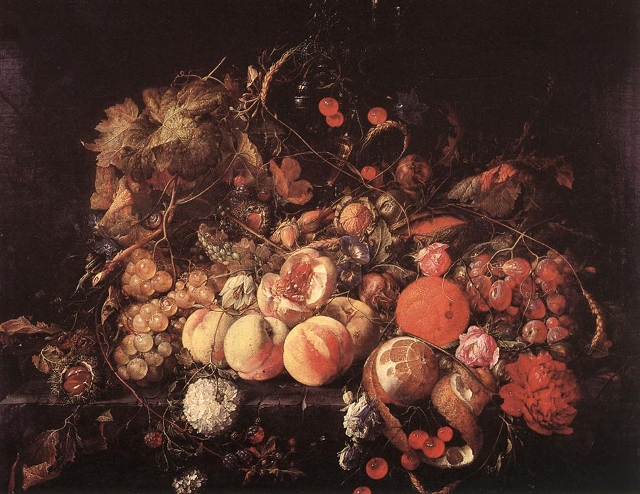 People, I'll be honest. There are so many perfumes in this little book of mine that I'm not sure I'll ever get them all named and written about, even with big round-ups like this one. But I'll continue trying for awhile yet…
Many people have asked for the names of the perfumes packed into the long paragraph that begins on page 12, with  "The scent of dry summer heat shimmering above asphalt, dusty earth and the blond grass of the foothills that surround the city of my childhood." Giving a good answer is a little tricky, since only some of these smells are straightforward descriptions of perfumes, while others are scent memories, or pieces of perfumes, or some combination of all three.
The nameable perfumes I had in mind include: Les Nez's Let Me Play the Lion ("the scent of dry summer heat…"), which I've written about here and down near the end of this post.  Annick Goutal's Chevrefeuille, ("the high singing scent of lemons fading to the spring green of honeysuckle…") which was one of the answers to the giveaway, as were Etat Libre's Jasmin et Cigarette ("The scent of night-blooming jasmine…with a touch of ashtray) and Frederic Malle's En Passant.
Donna Karan's Black Cashmere ("The soft smoke blanket of incense pierced by a fretwork of spice..) really deserves a whole post of its own, since it is one of my true standbys, and gets only a single, incomplete line here. It is less a true incense scent than a woody one, dense and dark, as befits its name. The incense emerges at the tail end of the dry down after the fireworks of spice upfront and it as more ashes than smoke–I always imagine the white fur on a burning coal when I smell it. The version I'm writing about here is the original formulation, which was sold in a striking black pebble bottle, rather than the 2008 re-released formulation in the handsome, if boring, black column. It is likely that the restrictions on eugenol, which I discussed in my previous post are what have made the spices in the current Black Cashmere a little quieter, but it is still very much worth smelling.
From here on out, things get much more impressionistic. "The lush rot of overblown roses wrapped in velvet," is a reference to Jean Desprez's Bal a Versailles, in the Eau de Parfum version, though it is definitely an incomplete description of that grand old perfume. Likewise, the mandarines, bitter chocolate and leather in the next sentence (I keep writing "scentence") are part of, but not the whole of, my beloved Coco from Chanel, which, like Black Cashmere, also been through several reformulations but remains worthwhile seeking out "The thick wine scent of honey" is simply a description of honey, but also a reference to Botrytis, which I've already written about here.  My luscious peach was a hint of Mitsouko and her granddaughter, the luscious brightness at the heart of Rochas' modern formulation of Femme.  I would love suggestions on true, solifruit peach perfumes. (You can read Victoria Frolova's excellent post on the use of peach notes in perfumes here. The comments are terrific, too.)
The rest of the paragraph I will leave alone since the references are really too vague to pin down, but I do recommend that you smell Santa Maria Novella's Eva if you are looking for the scent of hay (plus a touch of new leather car seats and some lemon sunshine) and some day I'll write a full tribute to the salty skin and oranges-via-Paris sophistication that  Hermes' Eau de Merveilles which I firmly maintain is much naughtier than everyone makes it sound.
What else? The "boozy amber, a rare, perfect first guess" (pg 16) that I found for the documentary filmmaker is Parfum d'Empire's Ambre Russe, known to its anti-fans on Perfume Posse as "Rasputin's Armpit" (pg 73). (It also makes a brief appearance on pg 195, where I describe the joke in its opening–a big blast of vodka.) It's a fierce thing, with plenty of black tea and leather along with the rich amber, and the booze never completely dies out. When I decant some for a friend–the bottle is huge and seems to replenish itself–it inevitably dribbles so I've learned to keep a kleenex wrapped around my hand. The next day the lingering scent from that kleenex in my trashcan turns my office into a book-lined study with leather furniture, green-shaded lamps and a fresh supply of pipe tobacco out on the desk.
Ambre Russe could very well also be one of the scents that smell of "whiskey, leather and sweat" on page 17, but the one my friend ended up with was Serge Lutens' Fumerie Turque, a rich sweet tobacco scent redolent of all three of those things. Do try CB I Hate Perfume's Second Cumming on that score, too. If you have other recommendations I'd like to hear them.
And the documentary maker's original perfume?  The one that saved her in Paris?
That's her secret to tell, not mine.