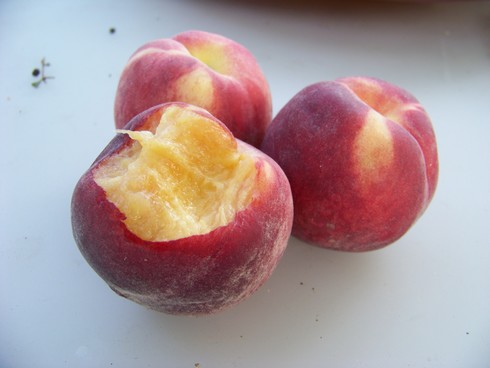 When I began drafting this post, we were still in the early, barely warm days of summer in Austin and the first peaches of the season had just arrived—tiny, with a pale, delicate flavor. Another series of deadlines went by, the heat arrived, and the peaches got sweeter. Much sweeter. The ones up above were part of a crop so fragrant that I did a double-take when I walked by the produce section and looped back to find the source of that maddening, tangy, mouthwatering scent.
They were truly ripe white peaches, rich and floral on the tongue,  and they made me dream of Jasmine Bellinis: white peach purée, Prosecco and a tiny drop of jasmine absolute, the concentrated essence of the heady flower. My bottle was sourced by natural perfumer Mandy Aftel. It is unbelievably smooth, with an undertone of bitter chocolate, but it is also very dark and a little wild—half animal and half flower. Adding a tiny drop of it to the puréed peaches not only amplifies their fragrance, it gives them a kiss of humid summer heat—a touch of the decay that is so often necessary to make something truly luscious. The bubbles in the wine lift all that into something celebratory, and tickle your nose with the scent before you even take a sip.
At least, I hope that's how it will be. Because the truth is, though the Prosecco is chilling in the fridge, the jasmine absolute is on my desk, and a half dozen white peaches are waiting on the counter, my Jasmine Bellinis are still imaginary.
I first got the idea for Jasmine Bellinis months ago, when I found this beautiful recipe pairing jasmine and peaches while collecting examples of fragrant cuisine for Chef Dana Tommasino my co-host for a Scent Dinner at Woodward's Garden in San Francisco this March.  And I've been imagining them—dreaming of them even—ever since. I've been matching the flavors in my mind, comparing them to paired accords in perfumes I know, like the way the beautiful peach in the heart of Guerlain's Mitsouko perfume, especially in my vintage version, marries with the warm earth, herbs and hay of the oakmoss in its base, or the way the touch of overripe melon in Frederic Malle's Parfum de Therese is doubled by the scent of soft, sumptuous, floral leather and lifted up by the aldehydes in the topnotes.
Those of you who have followed my adventures on Now Smell This  know I don't shy away from experimenting in the kitchen until I get something right. What I've been missing is the proper motivation and occasion. What I've been missing is all of you.