Thank You, Austin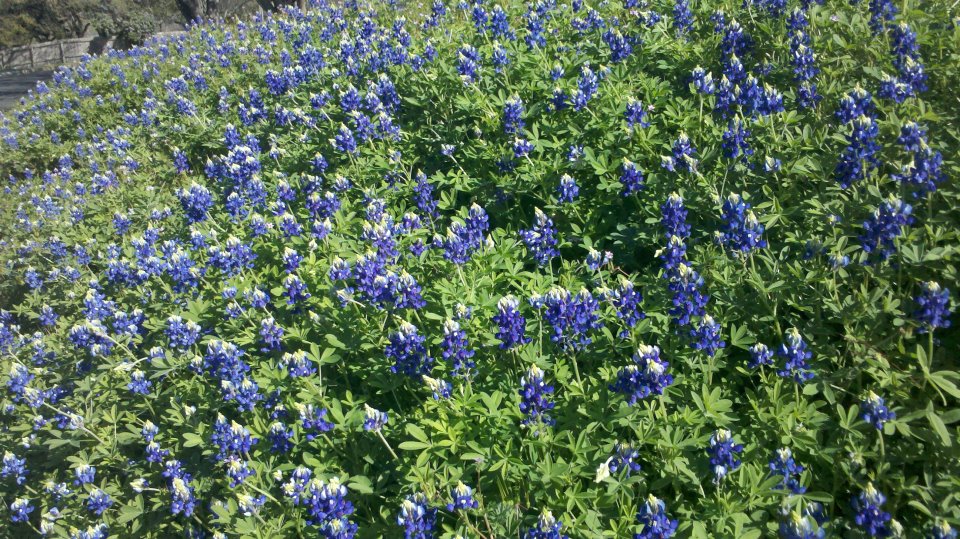 (Note for the perfumistas: There is some scent and perfume talk down at the bottom of this post and a giveaway for those of you who make it all the way through.)
Long ago, back in the dark, pre-perfume days of my life when I was still trying my damnedest to get a job as an English professor come hell, highwater or a temp position in a town I couldn't find on a map, I would be coming around the particularly pretty curve of North Lamar that runs alongside Shoal Creek on my way from one of the best indie bookstores in the country to one of the best grocery stores in the country, or swimming through the cold, glassy green spring-fed water of Barton Springs in the still quiet of the morning, or picking strawberries at Boggy Creek Farm (where I know the farmers by name and a photo of me holding a bouquet of zinnias magically appeared on the farm stand wall one day) and a small voice, just loud enough to be heard over the dull roar of my chronic anxiety, would ask: What if this were your life?  What if, instead of an academic, you became a…Texan!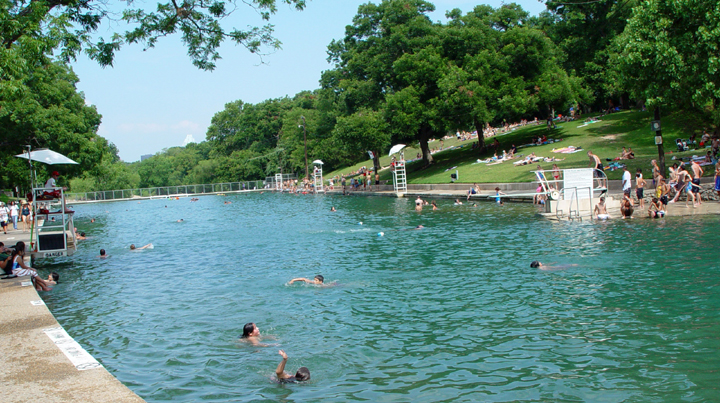 I was not the first and I will not be the last person to have these kinds of thoughts about Austin. It's a place where a quick trip can stretch into weeks, months, years… On my first visit it took me a full 24 hours to get home to Boise. My plane was delayed in Austin and then grounded overnight in Dallas. I ate Chinese delivery sitting on the hotel room bed and the fortune in my cookie said: Your future lies in the South.
For me, the heart of Austin's charm isn't any one place, person or event, but a more general sense, expressed in many small and large ways, that this city is less about money, power or ambition than it is about the pleasures of living well.  It is not a perfect place. Like every city, it has its injustices and stupidities. But at its core it's a good-time town and it wants everyone to be invited to the party.
There's a festival every five minutes–to raise money for a friend or a cause, to celebrate good weather or be outrageous in the bad (there's a chili festival in August), for bluegrass or poetry or because the moon is full. (Seriously. There's a full moon gathering once a month at Barton Springs.) In spite of ever higher rents, we still have a large population of people whose slightly mysterious cobbled-together jobs leave them with a lot of free time in the middle of the day. Because they're in a place they love and have time to hang out with each other they make things happen.  Sometimes a lot of things. Pecans fall from the trees and litter the ground in my neighborhood. In summer, which runs from May to November, mangoes are three for a dollar and blue crabs are four dollars a pound. In addition to Boggy Creek, there are farmer's markets galore, including one I can walk to from my house on Sundays.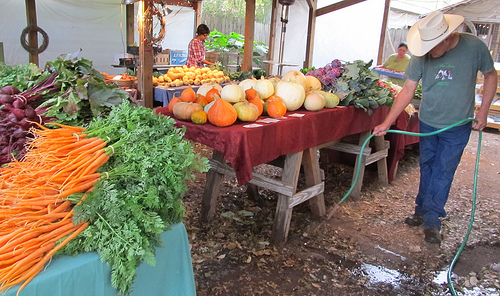 It is in short, the exact opposite of the driven, worried, intellectual, hyper-critical, nose-to-the-grindstone person I was trying and failing to be in those days. It was the pleasures of living in Austin that made it possible for me to say no to academic itinerancy and gave me the courage to demand something more from my life.  In Coming to My Senses I give most of the credit to perfume for waking me up and challenging me in all the right ways. That story is absolutely true, but I doubt very much it would have happened if Austin hadn't been softly, persistently making me question myself for years beforehand.
For all these reasons and more, it's been tremendously gratifying to get so much support for Coming to My Senses from my beloved adopted town. I was fully prepared to be ignored. This city is chock-full of talented, well-known writers and it is not, to put it mildly, much of a perfume town.  But I was wrong, yet again.  BookPeople, the indie bookstore I mentioned above, gave the book a tremendous push when it first came out, helped me put on a truly fabulous launch party, and then put it in their store at the airport. The Austin Statesman printed not just one  but two gracious articles and the Austin Chronicle gave me one of my smartest, most thought-provoking reviews to date. Then, just when I thought no one was paying attention anymore, Coming to My Senses was included as a Critic's Pick this week in the Chronicle's Best of 2012 issue.
So it was time–past time–to say thank you. And it feels right to give something back. I don't have any perfume that smells of barbecue, though I know it exists. Neither can I conjure up for you, in anything but prose, the sticky, sweaty scent of spilled beer in in a bar where the band is keeping the crowd on its feet, or the cold stones and river scent of Barton Springs. But thanks to Mandy Aftel's Honey Blossom I can give you the exact living scent of a field of bluebonnets warming in the sun.
Bluebonnets bloom early in the spring, before the true heat of summer arrives, when it's still possible to be giddy about sun and warmth and the flowering trees everywhere. Individually, they don't smell like much, but en masse they are the definition of buzzing, honeyed, green and growing spring. It's not a scent I thought I'd ever find in perfume, but the second I put Honey Blossom on my skin there it was.
Mandy lists mimosa, orange blossom, linden and ambergris among other notes. I can smell them all, especially the linden, which comes forward to fill out the heart of the perfume after the touch of green in the orange blossom has shimmered in and out for the first twenty minutes. But it's not a perfume that encourages analysis. The first time I put it on the world stopped for a moment and I closed my eyes in gratitude. I've felt something like that every time I've worn it since.
If you'd like to be in the draw for a sample, tell me about something that makes you feel that kind of gratitude, or a story about a city that changed you in some way. I'll leave the post up over the weekend and pick two winners on Monday.  And then put things in the mail immediately. No dilly dallying around this time!
Images, top to bottom: Field of bluebonnets in a neighbor's yard, my photo. Barton Springs pool, from the city website. The Boggy Creek farmstand, Farmer Larry presiding, from their website.