A Rose in Winter: Yosh Han's Sottile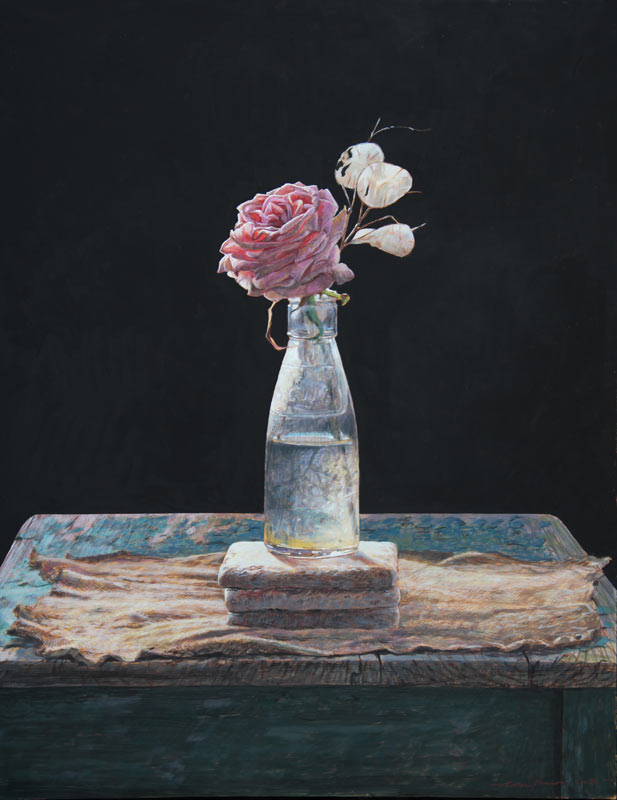 In the fall I crave the scent of roses. I want them dark and full blown, like the true red roses in the heart of Teo Cabanel's Oha, or roughed up by oud and patchouli like the wonderful/unbearable Black Oud by Montale. When fall turns into winter, I like them jeweled, with a touch of frosty pink pepper, like Ormonde Jayne's regal Ta'if, or swimming in mulled wine and figs like Parfums DelRae's delicious, jammy Bois de Paradis, or solemn and rich like Caron's Parfum Sacre, where the wine and spice comes along with plenty of incense.
But then, after all the feasting and color of the holidays, there comes a moment when richness and ornament feels wrong. I began this post in January, a month that, no matter the actual weather (it was in the low seventies at the time), will always be cold, spare and windswept to me–an empty landscape. We're done with January now, but we're still in the middle of Lent, and I still want the clarity of that landscape. Clarity, and a bare hint of spring. I want my life and mind illuminated by something like the Scandinavian light in Colin Fraser's painting up there.
When I think of a rose for winter clarity, I think of perfumer Yosh Han's Sottile. I first smelled Sottile near the end of the day at my first Sniffapalooza. I was exhausted and overwhelmed by fragrance and fellowship, covered from head to toe with who knows how many perfumes from–not from my own testing but from standing next to dozens of enthusiastic spritzers. Just when I was sure I couldn't smell anything anymore and was about to flee for open air, I bent toward one of the wine glasses Yosh had lined up on her table. Up came the scent of a rose like the sound of a small silver bell, simple but true, and the rest of the room went magically silent.
Sottile is a soliflore, a portrait of a single flower–in this case, a tea rose. It is clear and pink rather than rich and red, with a touch of lily of the valley, like the hint of green in the center of a just open flower.  It's not the kind of perfume I normally gravitate toward, but I am always grateful for its existence and when I want to wear it nothing else will do.
Sottile is also one of the five California perfumes Chef (and writer) Dana Tommasino and I included in our scent dinner at Woodward's Garden. We translated it into a simple champagne cocktail, and you can too: simply add a few drops (only a few!) of rosewater, a twist of lemon rind, preferably Meyer lemon, to your glass of dry bubbly. If you have a few lemon blossoms–we did–float one or two on top. If you don't (or even if you do) you could put a single dried tea rose in the bottom of the glass. I buy mine in the spice section of my local Middle Eastern grocery store. Bulk tea sections and Asian grocery stores often have them, too.
The personality of Sottile's creator may have influenced our decision to use champagne. I have met many generous and enthusiastic people in my perfume journeys but Yosh Han simply amazed me. As soon as she found out the dinner was happening she threw herself into helping us in every way she could including connecting us with the journalist whose article I just linked to above. She even asked me if I needed a place to stay when I was in town. (I didn't, but what a delight it was to be asked!)  I know I'm not the only one Yosh has treated this way–she's kind of an all-purpose ambassador and MVP of the indie perfume world. I've always wanted to thank her publicly. So thank you, Yosh.
And I've been meaning to share Yosh's generosity with all of you for quite some time, too. The guests at the dinner all received the above deluxe samples of Sottile pictured above complete with an extra gift of the dark and mysterious special edition, Sombre Negra. These three are for you. Please leave a comment about the kind of January/February scents you've been craving, or a favorite rose (scent or flower), or even a favorite champagne cocktail, if you'd like to be in the draw.
Note: While I was dilly dallying around in New York and Idaho and then catching up on work, Ayala Sender headed up a great blogging project, A Dozen Roses for Valentine's Day. Please see her site for a full list of the bloggers officially involved (and her own very delicious post), but don't miss my friend Elisa Gabbert who decided to crash the party over at The French Exit. For even more roses, including another take on Sottile, see Denise Hamilton's recent column in the L.A. Times.
Image: Colin Fraser, Winter Rose Suite Number 4. For more of his images go here.