In Memoriam: Pattern #203, Child Caves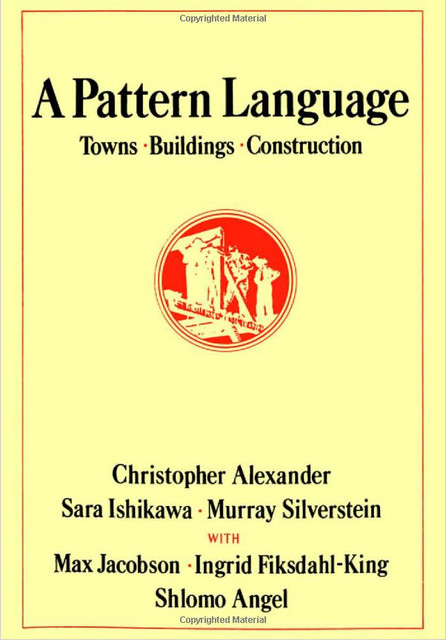 First published in 1977, architect Christopher Alexander's  A Pattern Language is an odd, ambitious, humorous, deeply humane project rooted in a late 1960's sense of possibility–the kind of thing it's hard to imagine anyone attempting now. Alexander and his team spent years researching and observing the ways people most love to live and shelter themselves–the spaces and paths we bend toward even when we're thwarted along the way. Then they tried to offer these up as replicable pieces or "patterns." The book moves from macro to micro: a pattern can be large and fairly abstract ("Magic of the City," "Identifiable Neighborhood," "Old People Everywhere,") or very small and specific ("Windows Which Open Wide," "Seat Spots," "Pools of Light").  The result is a book that is part manifesto, part practical handbook, part lyric meditation. It is both a dream of a better world and directions on how to build one, a single piece at a time.
All of which makes it a pretty good book to read in a time of heartbreak and despair. I know this because  I've had it on hand ever since the news broke about Sandy Hook Elementary. I'd pulled it out a few days beforehand, after it came up in the comments section of my post about Everyday Magic. When I started this post I planned to share the final, very beautiful pattern in the book, #253, "Things from Your Life," which is about the way meaningful objects (rather than fashionable "decor") can tell our story: "A hunting glove, a blind man's cane, the collar of a favorite dog, a panel of pressed flowers from the time when we were children…"
But then, like so many other people, I spent a few bewildering days immersed in the news stream and the debates, caught between grief and action, trying to find room for both. And when I returned to the book it opened to another one of my favorite patterns: #203, "Child Caves."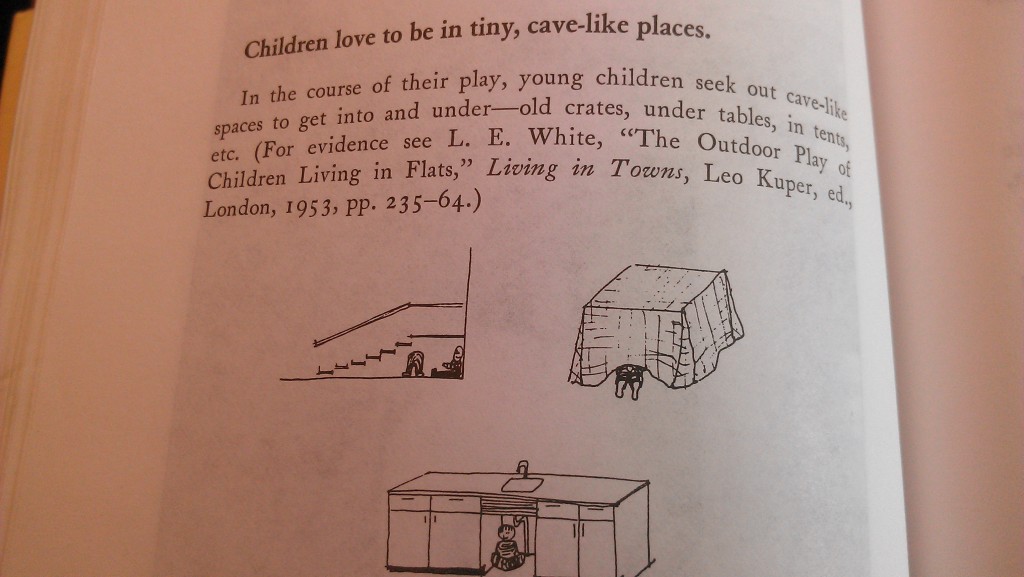 "Children love to be in tiny, cave-like places…" reads the text accompanying the tiny illustrations of a child under the stairs, halfway under a tablecloth covered table, crouched in the cabinet under the sink. "They try to make special places for themselves and for their friends–most of the world about them is "adult space" and they are trying to carve out a place that is kid size."  There follows specific instructions about how many feet of space a child takes up (about five) and how to make a cave big enough for several children because "children like to do this in groups."  "Therefore," the authors instruct:
I don't want to say too much about these images.  I've been writing and deleting all day, looking for the right amount of silence. But I will tell you that I keep returning to them when the clamor surrounding Sandy Hook threatens to overwhelm the silence, the sudden and terrible absence, at its heart. And every time I look again, I'm moved by they way this pattern honors a child's desire for independence and suggests the need for a safe place to hide. I love, too, the way it asks us to literally carve out a space for children in a grown up world, one adults can only get a glimpse of ("Keep…the entrance tiny.") no matter how much they might like to follow.  We will have to find other ways, piece by slow piece.
Note: If you would like to help the children of Sandy Hook and the residents of Newton, you might look at the list on my Facebook page–it was originally assembled by a Sandy Hook mom. If you'd like to learn more about Christopher Alexander and the effect A Pattern Language had on the world, you can begin here. The book is available for free download here.