Be Sure to Wear Some Flowers in Your Hair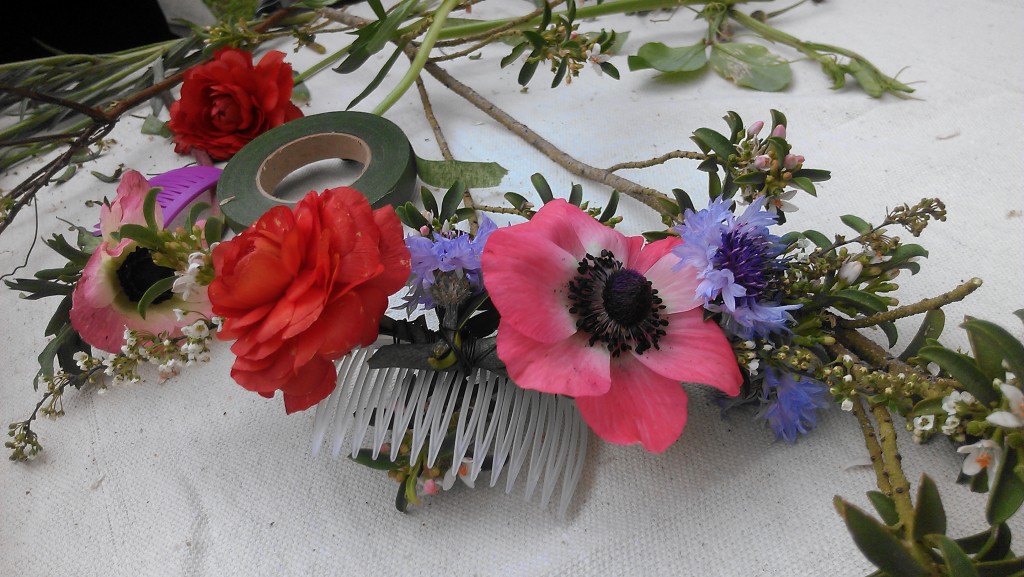 Well friends, I'm still reeling from the terrible events and plain bad news pileup of last week. I'm sure that many of you are, too.  But in spite of everything that has happened and will continue to happen and was happening all along while most of us weren't paying attention it is still spring.* It just goes on being spring.
Sometimes that feels like heresy, a sacrilege. But most of the time it feels like grace.
And after all, spring has never been an uncomplicated season.  May 1–May Day–means the protests and parades of International Labor Day (nearly everywhere but the United States), and the Maypoles, flower baskets and crowns and other ancient rituals of Celtic holiday Beltane, which I've come to know a bit about through friends. Like all spring festivals, Beltane is about sex, fertility and renewal, but it's also a time when the boundaries between our world and other worlds grows thin, permeable–a time of magic and danger, hope and risk.**
All of which means that now is a pretty good time to take an afternoon off and play with some flowers. At least that's what I was thinking a couple of weeks ago when I saw that Feliz was hosting a flower crown making workshop led by Studio Choo's Alethea Harampolis and Jill Rizzo, and signed up before I could think twice. Alethea and Jill are based in San Francisco (thus the title of this post), but they were in Texas to do some events for the launch of The Flower Recipe Book, their completely gorgeous new step-by-step guide to making flower arrangements that look, to me, like Dutch still life paintings, but with more wildness in them.
After my own messy, maximalist, cornucopia-loving heart.
It was a beautiful afternoon, cool and sunny. Twenty or so of us sat outside under the trees at picnic tables stocked with scissors, floral tape and two kinds of floral wire. Jill and Alethea showed us a few basic techniques: using a comb as a base (like the first two photos above), making a crown base out of bendable twigs or vines, or making a wire circlet and then attaching flowers one by one–a more time-consuming technique that allows for greater flexibility and the possibility of an intricate, mosaic-like crown.
Then, lesson over, we got some hands on practice.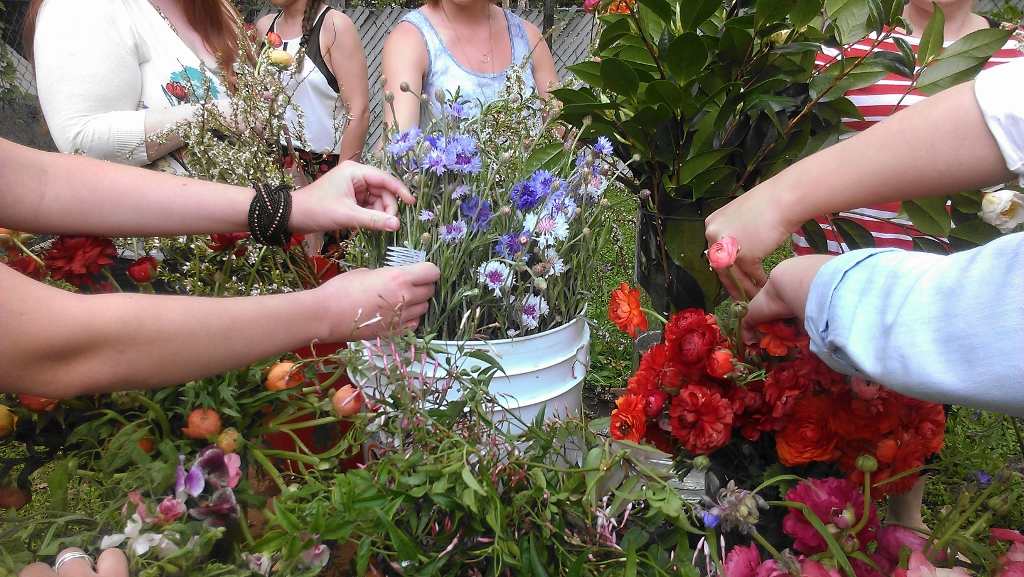 Assembling the crown was a simple joy. I found the tape and wire very easy to work with (addictive, really–I want to wire and tape everything now). And when you work with such beautiful materials it's almost impossible not to create something pretty.
But the best part of the workshop by far, was that everyone put their crowns and combs on as soon as they were done making them. And then there we all were, hanging out on a Saturday afternoon with flowers in our hair.  You know. Casual.
But transformed.
We stood around admiring each other and chatting. Alethea and Jill signed their beautiful books. We drank  sweet tea and lemonade spiked with vodka. I'd brought along some of my hydrosols and we experimented with spraying the sweetgrass hydrosol into our cocktails. It added a subtle, delicious flavor–as much a scent as a taste.
I made my crown with jasmine and anemones. The next day the anemones had faded, but the jasmine went right on blooming and when I walked into my office the whole room was filled with it's bitter chocolate and bananas scent. The flowers were there the next day and the next day and the next day after that, surprisingly tough and resilient.  They're dry now, but still fragrant.
Go on, go put some flowers in your hair. I won't tell anyone.**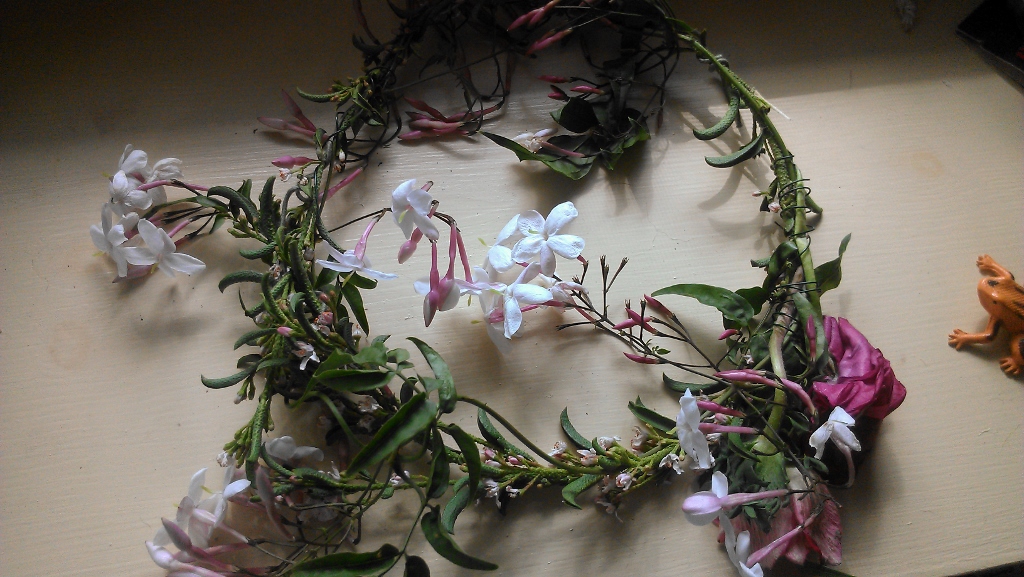 *I wrote that sentence yesterday and then woke up thinking of my friends in parts of the country world where it is still snowing.  It will be spring soon, even where you are. I promise. 
**According to some, Beltane is a moment when we can cross over into the world of the dead, if we dare. (On Samhain, which we celebrate in a different form as Halloween, the traffic runs the other direction and the dead cross over from their world to ours.) My Beltane-celebrating friend advised me to leave sweets out in the garden to appease the faery folk and ensure my luck and good fortune for the following year. I obliged–how could I refuse, really?–with some rose jam.
***But if you posted a photo of yourself, flowers in hair, on my author page or twitter I wouldn't complain about it. Not one bit. And I bet no one else would either. We might even be grateful. Very grateful. Think about it, OK?
Images: All photos by me. Please ask permission before borrowing.