May Queens at the Last Possible Minute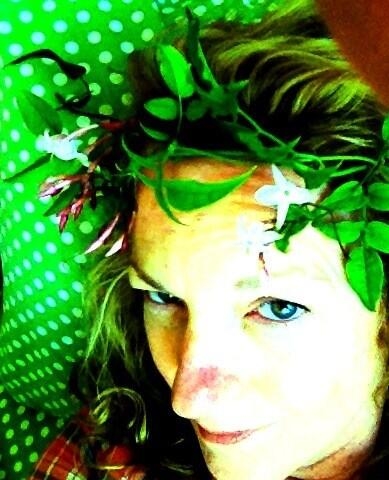 This month has really gotten away from me.
When I posted about flower crowns it was a week before May Day. I know what I'll do, I thought. I'll ask people to send in photos of themselves with flower crowns and then I can do a May Queen post. One or two people responded, May Day came and went, a few more people responded, I went away, and now here we are, with exactly three hours left in May for me to get this post up.
Well, why not?  I mean, really, how can I resist, with my friend Dana up there looking like Puck in a crown of pink jasmine, with the green polka-dots behind and (as if all that weren't enough) the tiniest bit of plaid. Dana is a writer, a reader, and the co-owner and chef of the lovely Woodward's Garden in San Francisco. I am here to tell you that photo is not lying about the food she makes or the sentences she strings together. If only you had all been able to come to the perfume dinner we put on together.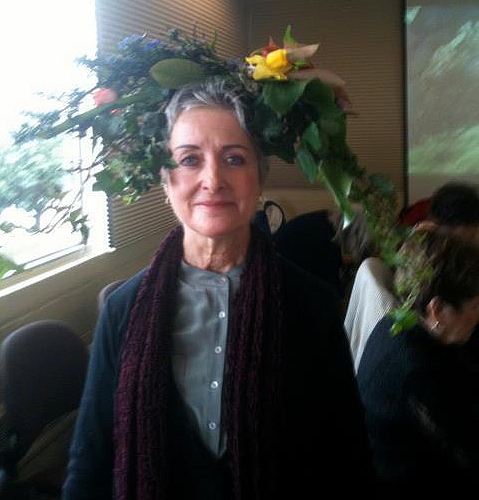 And here is my brave and beautiful reader, Marianne, who thinks I am very silly for wanting to post this and says her husband is laughing, too. But I don't care. I think she looks like an EMPRESS.  That dignified posture!  Those eyes!  The hint of a smile, just enough to suggest her own amusement.
Janet thought I was silly, too. But aren't you glad to see her in hellebores and forget-me-nots from her own garden? Janet is what my friend Natalie calls "kind of a big deal." She makes magical things inspired by the books she loves.  You should go look at them.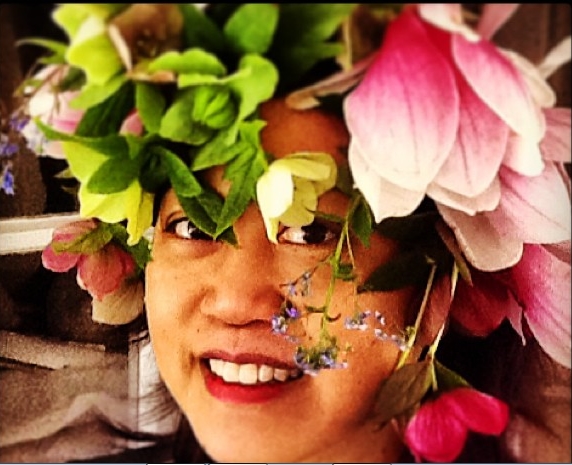 But not before I introduce you to Sara, who I've never met in real life, but whose tweets have often been a source of comfort and inspiration for me. She's one of those people who know all about the healing properties of the herbs in her garden, and when it's necessary to feed the fairies, and the deep meanings behind the positions of the stars. And of course she knows how and when to celebrate May Day, which is what she's doing here.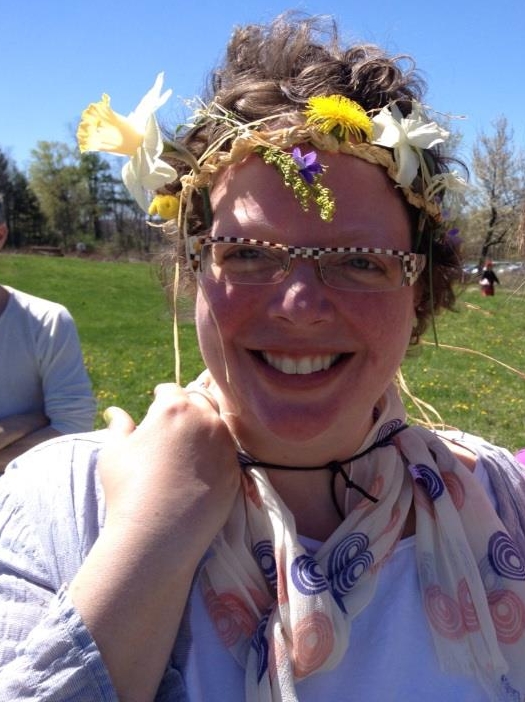 My fellow writer and perfume blogger Barbara submitted this picture of herself dressed as a Goddess of Perfume for the New Oreleans Mardi Gras parade (see the tiny perfume bottles on her ears and her bracelet?). Barbara just wrote what looks like a seriously good book on vintage perfume.  I can't wait to read it, but I am afraid, very afraid, of the yearnings that will ensue after I read all her gorgeous descriptions of perfumes gone by. Don't you think this would make a great author photo?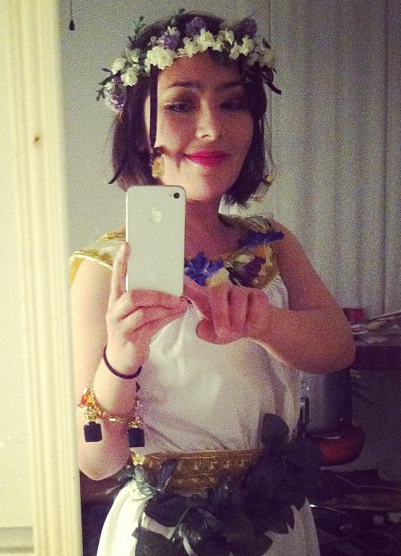 My Twitter friend and fellow writer Jill shows us an alternative crown method with a dahlia that is literally almost as big as her head. It makes another appearance in the header of her lovely blog, Slow Bloom.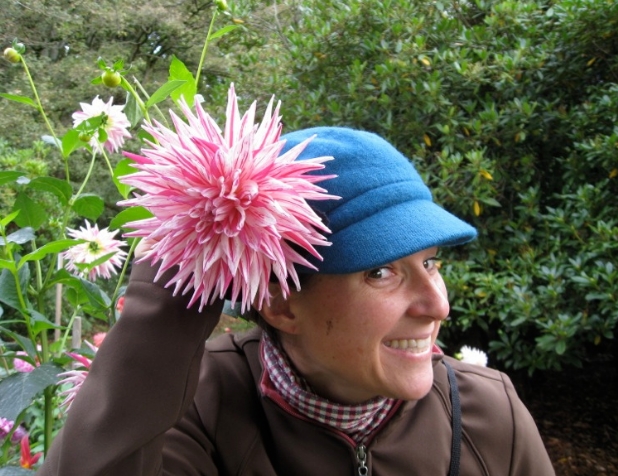 And last, but quite definitely not least, here is my poet friend and resident medievalist (she answers all my questions about Irish fairies) Dr. Katherine Durham Oldmixon, with the Frida-style flowers she wore for the Poetry at Round Top garden party and reading. It looks like it was quite an event, which doesn't surprise me considering Katherine is one of the organizers.  You can read some of her work here.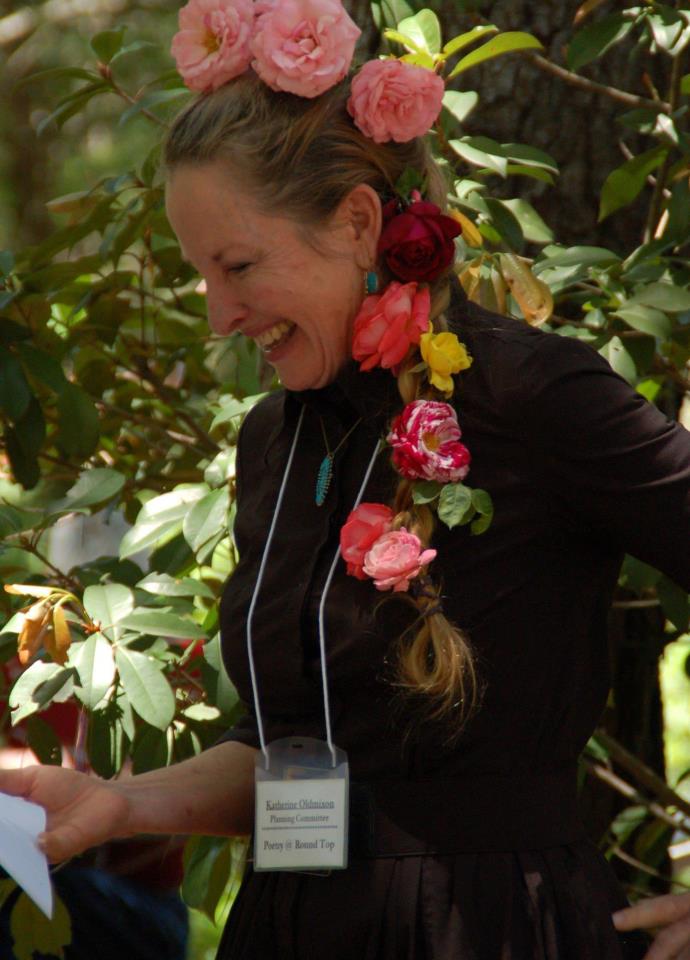 Thank you to all the May Queens for showing us how many different ways there are to wear flowers in your hair, and for the permission to post their photos, and for ushering us into June.
With 7 minutes to spare…