Come see me in Washington D.C! 2/20, 2/21 and 2/22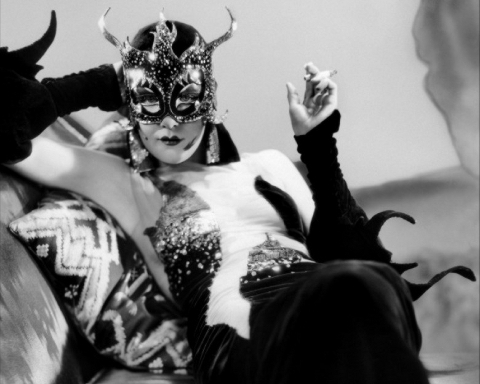 My outfit won't be quite as dazzling as Kay Johnson's is in this still from "Madame Satan" (and I definitely won't be smoking on stage) but I will be very glad to see you at any of the events below. At my reading/talk at the National Museum of Women in the Arts on Saturday, there will be lots to sniff and I'll be signing books. All events are free and open to the public!
(Note: I am looking for some volunteers on Saturday to act as human scent strips so we can really get a feel for the vintage perfumes I'll be bringing. If you'll be there and are willing to extend a wrist or the back of your hand to strangers, send me a message by email (alyssa at alyssaharad dot com) or you can contact me via Twitter or Facebook. ETA: Or leave a comment! The comments work again! Yay!)
Thursday, 2/20,  4-6 pm (Reception: 6-7 pm)                                                                            Roundtable on #altac/#postac: Rethinking the Humanities PhD Job Search               Rome 771, George Washington University Dept. of English, 801 22nd Street, NW 
I'll be talking about my path from English Ph.D. to author along with a group of other very smart and interesting people with humanities Ph.D's who are working outside of academia, some of whom have thought about the current structure of the academy a lot more than I have. The roundtable is designed to be a conversation and all are welcome no matter what your current relationship to the academy.
Friday, February 21, 11-1pm: Perfumed Letters Roundtable                                                George Washington University, Marvin Center—Room 301, 800 21st Street, NW
Why do so many writers I know love perfume? How have writers used scent in their work? I'll be talking about the intersections between literature and perfume with a poet and several scholars. Everyone on the panel is knowledgable about a different time period, but we all have a strong interest in gender, scent, history and power among other things. All participants have been encouraged to bring along a scent to share. This should be a lot of fun.
Saturday, February 22, 12:30-2:                                                                                       Reading & Conversation  with Professor Holly Dugan                                                           National Museum of Women in the Arts , 5th Floor Performance Hall                           1250 New York Ave NW        
I'll be reading from Coming to My Senses and telling a few stories about women, art and perfume and what they've had to do with each other over the years. In particular, I'll be talking about the groundbreaking perfumer Germaine Cellier, a charismatic but mysterious figure whose perfumes speak volumes about her sense of what was possible for women. I'll also discuss artist Niki de Saint Phalle's collaboration with the Jacqueline Cochran Corporation to create an early celebrity perfume very different from most of the ones we have today. I will be bringing vintage perfumes to smell (see my call for volunteers above) and some raw materials as well.
I will also be chatting with my friend, Professor Holly Dugan, whose fascinating book The Ephemeral History of Perfume  traces the language, customs and culture around scent in early modern England by focusing on the fragrances of  incense, rose, sassafras, rosemary, ambergris, and jasmine. Professor Dugan will be part of the Perfumed Letters Roundtable on Friday as well, and is the person responsible for making all of these events possible. Thank you, Holly!
Coming to My Senses and The Ephemeral History of Perfume will be available for sale and signing at the event.